Wavesport Kayaks
Wavesport Kayaks are Made in the UK.
Wavesport Crossover Kayaks
The Ethos by Wavesport is a kayak designed to bridge the gap between touring and general purpose boat. For those paddlers who want to be able to Tour, but also take on rougher waters occasionally, this is a great choice.
Wavesport Sit On Top Kayaks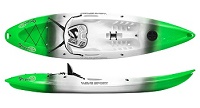 Wavesport have made the Scooter as a kayak which is fun for everyone to use, great for use in the sea, on rivers and out in the waves.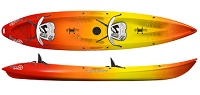 The Perception Scooter Gemini double sit on top is a fast, yet stable sit on top which is great for sea, harbours, rivers and estuaries.
Wavesport White Water Kayaks
The Wavesport Diesel is a do it all river running kayak, having been popular for many years the Diesel is now available in this basic level of outfitting for an extremely affordable, proven river runner.
The Wavesport Diesel is a do it all river running kayak, having been popular for many years the Diesel now features Wavesports Core Whiteout outfitting for maximum control and comfort.
The Wave Sport Phoenix offers a combination of speed and agility, allowing paddlers to take on some of the toughest creeking around.
Available in 2 different sizes, and based on the original Wavesport Diesel, the D65 and D75 from Wavesport are a superb option for anyone looking to get into whitewater kayaking.
Wavesport Recon
The Recon is a hardcore creek boat designed with speed and manoeuvrability in mind. If you want a boat to get you down even the hardest whitewater in safety and comfort then this is the one for you.
Please call us for availability.
Wavesport Touring & Sea Play Kayaks
The Wavesport Hydra is new to wavesports range this year. Perfect for all paddler abilities, the Hydra is great for flat water touring but also has pronounced rocker allowing you to surf and take on some sea work.
Wavesport Playboats
The Wavesport Fuse 35 a great kids river running playboat. Perfect for learning new skills and giving confidence when learning.
The Wavesport Fuse a great little river running playboat that will help beginners develop and offer experienced paddlers a really good all round kayak.
The ever popular Wavesport Project X has finally returned and is available for pre order now!
The Wavesport Mobius is a fast, short and modern playboat with forgiving qualities that will give beginners the confidence to get into freestyle, whilst offering experienced paddlers enough performance for anything they want to do.
Wavesport Tandem Touring kayaks
The Horizon is one of the only plastic Tandem touring kayaks currently available which features two cockpits. Fast yet stable; the Horizon is a great touring kayak for two people.

An open cockpit fast touring double kayak that can be fitted with an additional child's seat and an over-stern rudder.
Please call us for price and availability.