Jonny Boats For Sale
Bournemouth Canoes are able to supply Jonny Boats & all the optional extra accessories you could want.
Cant find what you are looking for?
If you would like to talk to a member of our staff about Jonny Boats please call us on 01202 625256.

Jonny Boats Range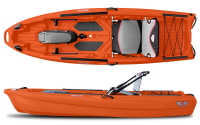 The Bass 100 from Jonny Boats is part kayak and part motor trolling fishing boats. A stable craft ready to be fully customised in to the ultimate kayak angling craft.