Dry Bags & Waterproof Carriers
Waterproof Phone, Electronics and Key Cases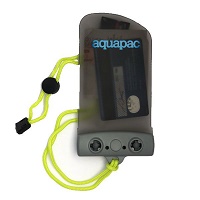 Aquapac Mini Electronics Waterproof Case 108
Waterproof case that allows you to use all your phone's features normally through the soft plastic case.
Materials: TPU with optically-clear LENZFLEX™ lens window.
Weight: Case: 0.8oz / 24g - Lanyard: 0.2oz / 7g
Phone features can be used through the case
Fits Iphones 1 - 4s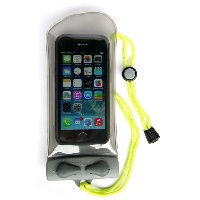 Aquapac Key Master Waterproof Case 608
submersible waterproof case that is perfect for keeping your keys, change and anything else you can fit in safe.
Materials: TPU
Weight: Case: 0.8oz / 24g - Lanyard: 0.2oz / 7g
Fits iPhone 1-5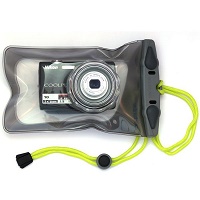 Aquapac Mini Camera Case 408
This waterproof cases allows you to use your camera while out on the water, and even underwater.
You can take great photographs right through the LENZFLEX windows (see below). Even underwater.
The Mini Point and Shoot Case (code 404) is compatible with most non-zoom compact cameras.
It'll float with your camera in it.
It's guaranteed submersible to 15 feet (5 metres).
The UV-stabilized TPU material won't be broken down or discoloured by sunlight.
It keeps out dust and sand too. They're a particular problem for cameras.
Roll Top Dry Bags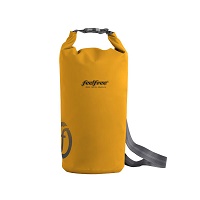 Feelfree Dry Tubes
These Feel Free Dry bags are made from a tough PVC material, and with a roll down top you will get a great dry bag that will keep your belongings safe and dry. The Feel Dry bags are ideal for any type of kayaking, feature a carry strap and are available in 3 sizes.
Roll-Down Dry Seal Closure.
Tough PVC Tarpaulin Fabric.
Heavy Duty 19 ounce Vinyl Bottom.
Adjustable shoulder strap.
Available in 3 sizes:
5 Litre
Height 25 cm
Length 20 cm
Width 20 cm
15 Litre
Height 40 cm
Length 25 cm
Width 25 cm
30 Litre
Height 45 cm
Length 30 cm
Width 30 cm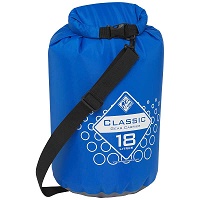 Palm Classic Dry Bags
The Palm Classic Mid weight dry bag is perfect for keeping kit clean and dry. Made from 70D nylon with a PVC coating and welded seams. The Palm Classic dry bag works with a standard dry bag roll down closure, with D-Ring attachments for a shoulder strap.
70D Nylon
PVC Coating
Welded Seams
D-Ring attachment
Carry Strap
Available in 4 sizes:
12 Litre - Orange
Height: 32cm
Length: 22 cm
18 Litre - Blue
Height 37 cm
Length 25 cm
24 Litre - Black
Height 38 cm
Length 28 cm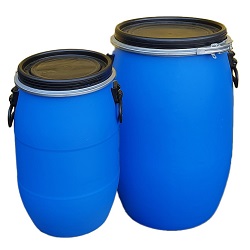 Blue Barrels
Multi-use watertight barrels keep your kit dry. Available in 30 & 60 ltr
options. These barrels also double up as a handy little table or seat on your canoe. These barrels are popular for use with open canoes but always secure the barrels into the canoe using the side handles in case of capsize.
30ltr Barrel - Height 53cm x Width 30cm
60ltr Barrel - Height 61cm x Width 38cm
Dry Duffel Bags, Dry Tanks & Dry Luggage

Waterproof shoulder bag for keeping small items dry. Ideal for storing your car keys, phone and wallet

Waterproof backpack with a stylish design. Great for outdoor sports or traveling around the city.

Waterproof backpack with internal pouches for your laptop and tablet.