Hobie Mirage Outback - 2019 Model
Pedal Drive Sit On Top with the 180 Mirage Drive
The all new Hobie Mirage Outback 2019 Model. For the coming season Hobie have totally revamped the Outback and come up with some fantastic new features to make the Outback even better!
Hobie Outback - 2019: Call Us For Price
Hobie Outback Camo Edition - 2019: Call Us For Price

More info
Features
Spec
Colours
Videos
Accessories
Delivery
Finance
Hobie Mirage Outback - 2019 Model
The all-new 2019 Hobie Mirage Outback brings a fresh new design to their top selling fishing kayak. Stacks of stability, an efficient hull design, unbelievable seating comfort, fully loaded with the latest fishing features and all powered by the incredible Mirage Drive 180 with ST Turbo Fins. Hobie have just set a new standard amongst pedal-drive fishing kayaks!

Designed to be the perfect all-rounder for both fishing and general touring, the Outback has a hull which performs well on both inland waterways and inshore coastal waters. The stable hull design provides a comfortable platform to fish from all-day long and the new efficient bow pierces well through wind and chop whilst reducing hull slap. The Outback is propelled through the water using the revolutionary Mirage Drive 180 system - full power pedal drive in forwards and reverse! Switching between forwards and reverse is as simple and easy as pulling a toggle on the drive system. Steering is easy as well with the integrated kick-up rudder and steering controls found on both sides of the seat, allowing you to manoeuvre in and out of the tightest of spots.

The super comfortable Vantage CTW seat ensures you will have comfortable ride. Fully adjustable and supportive, you really can be out all day.

A large bow hatch will take plenty of gear and has enough space for fold-up trolleys such as the Railblaza C-Tug. The Outback also comes fitted with the Hobie Guardian Transducer Shield - a retractable transducer mount for your fish finder keeping it well protected during launch/landing and transport. Fitted Thru-Hull Cable Seals for the fish finder wiring makes fish finder installation easier than ever on the Outback.

Everything is just where you need it with Rubber Mesh Storage Pockets making a handy place to store small items of gear. There are also tool holding notches present - ideal for keeping your scissors handy. There is stacks of storage space on this kayak with a large rear cargo area which will easily hold a Hobie H Crate. Accessories tracks are also found at the sides of the rear cargo area - perfect for mounting camera poles/booms, safety flags and lighting poles.

The Outback is also supplied with a 2-piece fibreglass paddle, in case you fancy exercising your arms.

The superior stability provided by the Outback's hull design allows for stand-up fishing and casting on calm waters. EVA Foam Standing Pads are fitted either side of the centre hatch to give a grippy level surface for standing.

This is possibly the best-equipped and most well thought-out fishing kayak ever for all-round fishing on coastal and inland waters.

Available in 6 colour options.
Features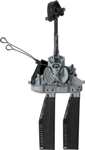 Hobie Mirage Drive 180
V2 System
The Hobie kayaks are famous for their Mirage Drive pedal system. This system consists of a pair of pedals that drive two rubber fins side to side to propel the kayak forward.
The Mirage System is silent while pedaling and creates no splash, it also allows you to effortlessly pedal the kayak with your feet while keeping your hands free. For 2017 Hobie have introduced a simple 'pull' to reverse the drive and allow backwards drives as well as forwards drive. Brilliant!!!
Vantage CTW Seating
Fully Adjustable, thick padded self inflation lumbar support for added comfort. Easy to fit and remove for transport. The CTW is now even wider for extra comfort.

More Efficient Bow Design
More efficient bow design making the outback paddle or pedal much easier through the water.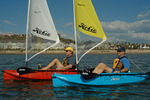 Sail Mount
All the kayaks in the Hobie range can take a sail to power your kayak. The optional Mirage Sail Kit attaches to the sail mount on the kayak. The sail maintains speed with or without pedaling
Twist & seal
rectangular hatch
Twist and seal rectangular mid hatch is simple to use and is hinged so you will never have to worry about losing the cover. The hatch comes with a gear bucket in it
EVA foam stand up pad
areas
Foam standing pads offer extra grip and are places either side of the mid hatch for easy use
H-Rails & H-Track Mounts
both side
H-rails are mounted in front of the seating position for easy mounting of accessories. H-tracks are located in front and behind the seating position
Retractable Guardian
Transducer Shield
This protects fish finder transducers from impact while providing the best transducer performance
Hobie's come complete with a two piece paddle that can be used for additional manoeuvrability or for when you are not peddling. When not in use the paddle can be stored in the handy hull paddle holder.
Keep the items you need close and handy like sun cream, snack bar or waterproof camera.
Placed in the middle of the Outback these improved handles makes it easy to move, lift and store your kayak.
Allows for storage below deck. The hatch is attached to a safely strap with a detachable clip
The Outback now comes with dual side rudder controls so no need to worry about swapping hands to do things
The Outback is now fitted with an updated kick up rudder system
Molded in to the hull, these rod holders are ideally placed for rods. The holders are also handy for carrying a fishing net or safety flag.
Large storage area for all the gear you want to take out with you. Bungee tie downs keep it all secure
The outback loader provides a sturdy platform for loading and unloading from roof racks, cutting the lifting strength needed
Dimensions
Length: 3.89 m / 12' 9"

Width: 86cm / 34"

Manufacturers Weight Capacity:

423 lbs / 192 kg

Optimum weight capacity may differ - please contact us if you are unsure about the suitability of the Hobie Mirage Outback - 2019 Model for your weight

Fitted Hull Weight: 38.56 kg / 85 lbs

Fully Rigged Weight: 46.72 kg / 103 lbs
Videos
>
Provided by Hobie USA.
Recommended Accessories

Hobie Plug-In Cart (Standard)
The Plug-in cart is lightweight with a strong stainless steel frame. The Wheels have 26cm tyres and are removable for convenient storage.

Hobie Trax (Trolley)
The Trax 2 cart has a stainless steel frame that is lightweight and durable. The wheels on the Trax 2 are 24cm blow-moulded polyurethane.

MD180 ST Turbo Fins Kit
The ST Turbo fins can be fitted to increase speed by up to a user reported 10%. The ST Turbo fins also enable a lower cadence speed allowing you to pedal less.

Hobie Mirage Drive Carry Bag
Carry bag to protect your Mirage Drive Hobie and accessories. The Carry bag is made from heavy duty durable Cordura material for a long lasting bag.
Delivery
We offer a nationwide delivery service for the Hobie Mirage Outback - 2019 Model, the delivery price is shown in the shopping basket.

Collection - Click & Collect
Buy a Hobie Mirage Outback - 2019 Model online from our website and collect from our shop in Hamworthy, Poole or you can collect from any of our sister stores. There is no cost associated with instore collection.
Our other stores are:
Southampton Canoes - Totton
Cornwall Canoes - St. Columb Road, Nr Newquay
Brighton Canoes - Newhaven, East Sussex
Kayaks & Paddles Plymouth, Devon
Manchester Canoes - Warrington
Norfolk Canoes - Norwich
We will contact you to arrange collection upon receipt of you order.
0% Finance Now Available On This Product!
We can now offer 0% Finance on the Hobie Mirage Outback - 2019 Model (0% APR Representitive).
It has never been easier getting on the water. Simply use the Calculator below by selecting the finance option from the dropdown menu and adjusting the deposit amount. Once you are happy with the monthly payment amount click on the 'Launch Loan Application' button, which will direct you to our Finance Companies Application Portal to complete the online application (This usually takes around 4-5 Minutes to Complete). For more information on Finance available: View Full Finance Info.
Give us a call on 01202 625256 if you have any questions about the Hobie Mirage Outback - 2019 Model