Feelfree Gemini Sport
Feature Packed Tandem sit on top for inland & coastal waters
The Feelfree Gemini is one of our most popular Double Sit on tops, featured packed and easy to use, it is a great choice for families.
Boat Only: £499.00 (RRP £549.00 - Saving £50.00)
Standard Package: £599.00 (RRP £708.80 - Saving £109.80)
Deluxe Package: £679.00 (RRP £788.80 - Saving £109.80)
More info
Features
Dimensions
Packages
Colours
Kit
Delivery
Feelfree Gemini Sport
The Feelfree Gemini Sport is a versatile and user friendly tandem sit on top which is ideal for family use, couples or friends. It also has the option of being paddled solo using the centre seating position of the boat. The Gemini is very stable thanks to its wide hull shape, but is also fast and tracks well thanks to its tri hull shape and long keel line. It also has a wheel built into this keel to help with moving it to and from the water on hard surfaces.
The Gemini is perfect to use as a platform to fish from (with the option of two flush mounted rod holders), to go snorkeling or swimming from or just for exploring. Two small 8" hatches are situated between the legs of both paddlers to keep those essentials safe (Always use a dry bag aswell). At the stern you have a storage well for your trolley or a dry bag and it also has recessed areas to fit two flush mounted rod holders. The Gemini also features moulded in side grab handles which help with moving the kayak around, loading it on and off a roofrack, and also for getting back on board after swimming or capsizing.
The Feelfree Gemini does not come with seats as standard, we would recommend them for extra comfort and support and there are two options for the Feelfree Kayaks. The Canvas seats (as shown in the picture above) are adequate for most people whilst the deluxe seats give more comfort, and extra support thanks to a more rigid back pad.
The Gemini Sport comes with a 'Wheel In The Keel' that makes getting this sit on kayak to and from the water a breeze. The wheel in the keel is designed for use on hard surfaces. It makes moving the Gemini Sport on slipways and from the garage to the driveway easier. The wheel isn't designed for use on rough ground or sand, you will have to carry the kayak or use a trolley instead. In order to prolong the life of the wheel's axle you will need to occasionally wash off dirt and salt water.
Features
Key Features:
Front & rear carry handles
Side carry handles
Moulded-in foot wells
Drinks bottle holder
2 storage hatches with mesh bags
Rear tank well with bungee cord
Wheel in keel
Drain bung
Seat attachments (Seats sold separately )
Dimensions
Length: 12.4' (3.7 m)
Width: 32.6" (83 cm)
Weight: 70.2 lbs (32 kg)
Capacity:

Manufacturers Weight Capacity: 550lbs (250 kg)

Optimum weight capacity may differ - please contact us if you are unsure about the suitability of the Feelfree Gemini Sport for your weight
Package Options
Feelfree Gemini Sport - Boat Only:

Boat Only: £499.00 (RRP £549.00 - Saving £50.00)
Feelfree Gemini Sport - Standard Package: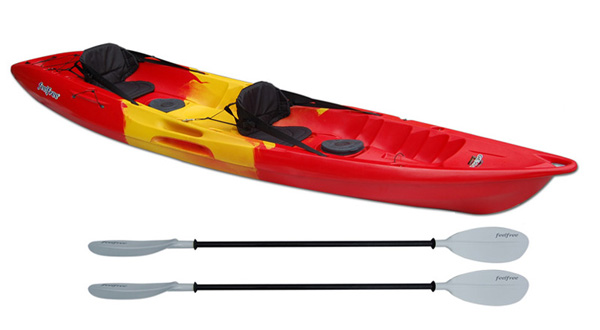 Package Includes:
Feelfree Gemini Sport
2 Feelfree Canvas Seats
2 Feelfree Alloy Paddles
Standard Package: £599.00 (RRP £708.80 - Saving £109.80)
Colours
Standard Colours:
Recommended Accessories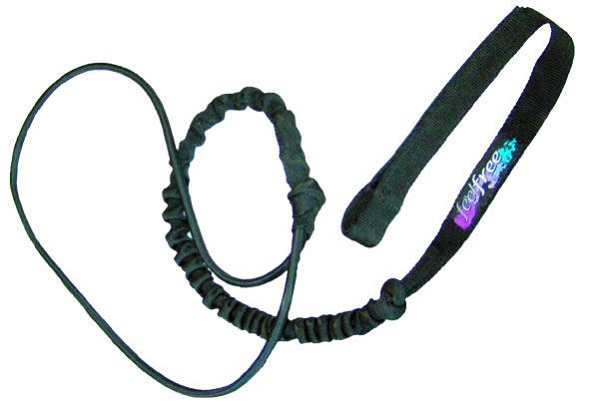 A paddle leash secures the paddle to the kayak to stop it drifting away if you capsize or drop the paddle.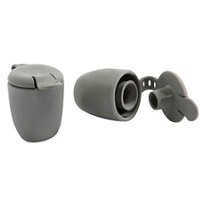 Scupper plugs are used to fill the drainage holes of the boat and are for use in calm conditions to stop water shooting up through.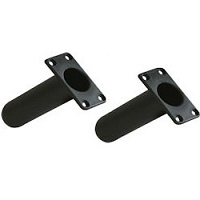 Feelfree Flush Mount Rod Holders (Pair)
These Flush mount rod holders are designed to fit Feelfree Kayaks but will fit most models. They are sold as a pair and include fittings and incorporated rod leash
Delivery of Clothing, Equipment, Accessories, Paddles & Inflatable Boats/Boards:
We offer a delivery service throughout the UK & Northern Ireland. Most deliveries arrive within 1-3 working days, although some deliveries may take longer.
Delivery of Kayaks & Canoes:
We offer a delivery service on most kayaks & canoes covering most of the UK & Northern Ireland - Some products and areas are excluded. We provide a bespoke delivery service for canoes and kayaks to improve the level of service and minimise the risk of damage.
Most Kayak & Canoe deliveries arrive within 1-2 weeks (not guaranteed) from confirming your order. The majority of Canoe & Kayak deliveries will be quicker than this but some may take longer.
For further information, please read our Delivery Information page.
×
COVID-19 Update - Click & Collect Temporarily Suspended
For the continued safety of our customers and colleagues our Click & Collect Service is temporarily suspended. Orders can still be placed through our website for "Contactless Collection", however collection of orders will not be possible until normal contactless collection services resume.
Give us a call on 01202 625256 if you have any questions about the Feelfree Gemini Sport