Gumotex Ruby XL
Inflatable Canoe Compatible With An Electric Outboard Motor
The Gumotex Ruby XL is a 3 seater canoe style inflatable that can be paddled or with its transom mounting it is also perfect for taking an outboard motor.
Gumotex Ruby XL - £1429.00
More info
Features
Dimensions
Colours
Recommended Kit
Delivery
Gumotex Ruby XL
The Gumotex Ruby XL is now 17cm wider than the original Gumotex Ruby. At 125cm wide the Ruby XL offers unparalleled stability and is perfect for gentle cruises on inland waterways, rivers, lakes and coastal waters. The Gumotex Ruby XL comes complete with 3 raised padded bench seats that provide good comfort and a dry sitting position. This inflatable boat is designed for carrying up to 3 adults and has a flat transom. The flat transom means it can be easily fitted with an electric or small petrol motor up to 5hp. The flat transom has been stiffened and is now removable. The Gumotex Ruby XL can still be paddled by hand using single bladed canoe paddles. The Gumotex Ruby XL now comes with fitted rowlocks for oars as standard.
Unlike most similar sized craft capable of fitting a motor, the Gumotex Ruby XL packs away to fit inside a compact 65 x 51 x 30cm, backpack style, dry bag and weighs in at only 29kg. This makes the Gumotex Ruby XL extremely easy to transport and store. Inflating is also quick and easy with only 3 air chambers to inflate, 1 in the floor and 2 separate side chambers.
Features
Rubber ropes for fixation of baggage
Safety ropes on the side tubes
Improved stronger transom for motors
Handles for paddles
Oarlocks for rowing already attached
Seats made of flat plywood
Binding rope in the bow
Push-push valves
Safety relief valve in the bottom of the boat
Repair kit
Transport drybag 135L
Dimensions
Length: 430cm
Width: 125cm
Weight: 29kg

Manufacturers Weight Capacity: 410kg.

Optimum weight capacity may differ - please contact us if you are unsure about the suitability of the Gumotex Ruby XL for your weight

Material: Nitrilon®
Paddle type: Canoe
Max. number of persons: 3 people
Air chambers: 3
Packed dimension: 68 ×51 × 29cm
Max. operation pressure: 0,02 / 0,2 / 3,0 (Mpa / Bar / PSI)
Box dimensions: 72.5 x 55.5 x 32cm
Recommended Accessories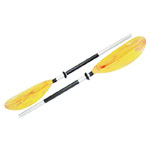 The Riot Distance 2-piece Split Paddle is an ideal paddle for use with inflatable kayaks. It is constructed using an aluminium shaft which is split into two halves and can be set to different angles.
Price:
Call Us For Price
Call for Price and Ordering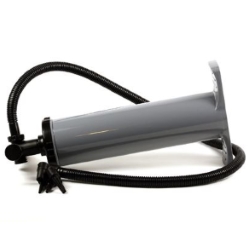 Delivery of Clothing, Equipment, Accessories, Paddles & Inflatable Boats/Boards:
We offer a delivery service throughout the UK & Northern Ireland. Most deliveries arrive within 1-3 working days, although some deliveries may take longer.
Delivery of Kayaks & Canoes:
We offer a delivery service on most kayaks & canoes covering most of the UK & Northern Ireland - Some products and areas are excluded. We provide a bespoke delivery service for canoes and kayaks to improve the level of service and minimise the risk of damage.
Most Kayak & Canoe deliveries arrive within 1-2 weeks (not guaranteed) from confirming your order. The majority of Canoe & Kayak deliveries will be quicker than this but some may take longer.
For further information, please read our Delivery Information page.
Click & Collect - Stores Nationwide:
We also offer a collect from store service. Collection for orders placed online can be made from any of our Canoe Shops UK Stores.
For full details on our Click & Collect service, please see: Nationwide Click & Collect
Give us a call on 01202 625256 if you have any questions about the Gumotex Ruby XL