Crewsaver Spiral 100
The Spiral is a modern and stylish, inexpensive PFD designed for children.
Crewsaver Spiral 100
The Crewsaver Spiral is a personal flotation device, designed for babies and young children. Features include lightweight polyethylene foam with a Nylon cover, 40mm waist strap with quick release buckle, reflective panels and a non clog zip.
"All sizes offer 100N of buoyancy - with the baby and child sizes being fully rated as an ISO 12402-4 approved lifejacket. This means that these sizes will fully support the wearer in the water and work to rotate them into a face-up position to protect the airway. The larger sizes are rated as an ISO 12402-5 approved 50N buoyancy aid. However, these sizes still retain 100N of foam and are a great solution for those seeking the extra reassurance offered by this level of buoyancy compared to standard buoyancy aid products." - Crewsaver
Features
100N of inherent buoyancy
Crotch straps included as standard
Strong, durable cover and fittings
Whistle
Waist adjustment
Reflective tape and detailing
Available in junior and adult sizes - 'baby' and 'child' sizes have additional seat support
Size Guide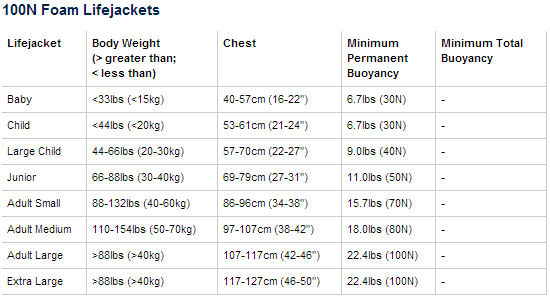 Please contact us on 01202 625256 if you have any questions about the Crewsaver Spiral 100