Typhoon Multisport 4 Drysuit
High end Kayaking drysuit
One of the best multi purpose drysuit's on the market, the Multisport 4 by Typhoon features Quad Ply breathable fabric, brazz entry and relief zips, latex seals and fabric socks.
£569.50 (RRP £669.95 - Saving £100.45)
More info
Features / Spec
Sizing
Video
Typhoon Multisport 4
The Typhoon Multisport 4 is a high performance, comfortable and durable rear entry drysuit which is popular amongst all types of paddlers: Sea Kayakers, Kayak Anglers, Open Canoeists and Whitewater Kayakers all love the design and robustness of the MS4.
The Multisport 4 is constructed from a very hard wearing Quad Ply breathable fabric and reinforced with Cordura on the knees, seat and elbow for maximum durability. It features brass zip's on both the hypercurve back zip and the convenience zip which is fitted as standard to the Multisport 4 suits. Latex wrist and neck seals with neoprene outer covers are very dry and the fabric socks fitted as standard are comfortable, and offer plenty of space for thermal socks underneath. Other features of the Multisport include internal braces to hold the suit up when your not paddling, twin waist seal for use with a spraydeck to keep more water out of your boat and reflective patches to imrove visability on the water.
Typhoon drysuits come as standard with a 3 year manufacturers warranty which covers material and manufacturer defects- please ask in store for more warranty information.
Features
Quad Ply Breathable Fabric

Hypercurve back zip position

Brass Zip

External Waist tube with adjustment

Convenience Zip

Wrist and ankle covers

Pre Bent arms and legs

Cordura reinforced seat, knees and elbows

Internal Braces

Latex seals on the neck and wrists
Sizing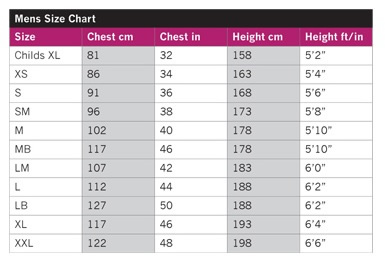 Give us a call on 01202 625256 if you have any questions about the Typhoon Multisport 4